Award-winning composer and cellist Jo Quail will soon embark on a European headline tour. The first show will take place in Brussels, Belgium on November 13. The tour continues to Germany, Austria, Italy, Switzerland and Poland. Find the full list of shows below.
Jo Quail recently released "Invocation" and "Supplication", two three-song cycles in the form of an album. On "Invocation", you'll be able to hear Maria Franz (Heilung) as a guest vocalist. "Supplication" features the vocal contribution of Lorenzo Esposito Fornasari.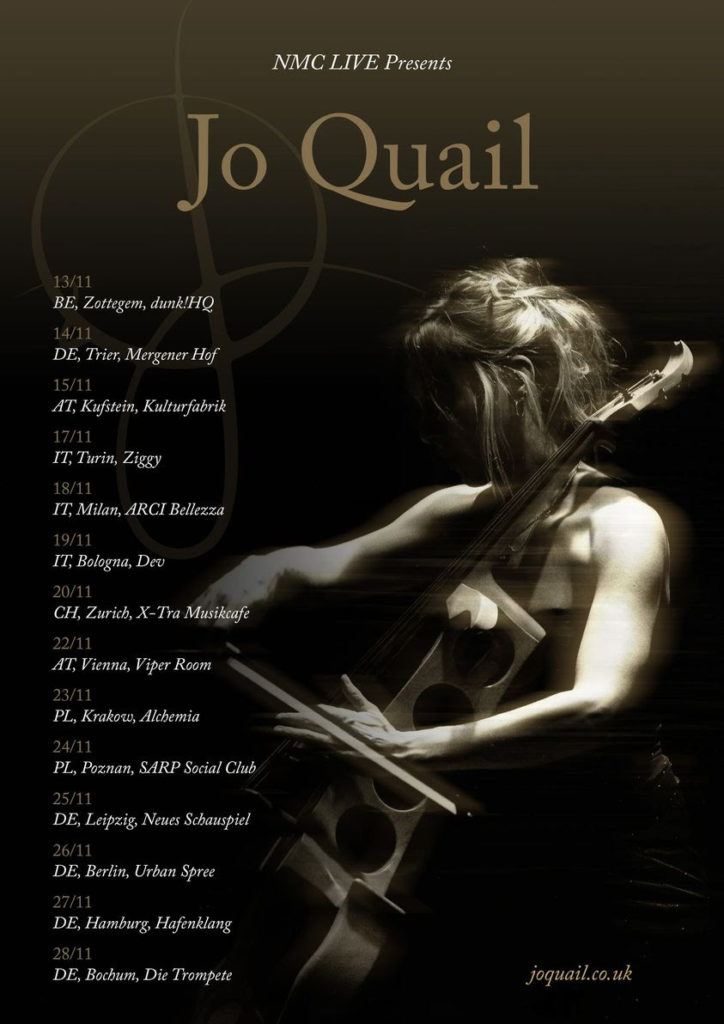 Channeling the earthy, primal and spiritual in music, Jo Quail presents two three-song cycles in the form an album, "Invocation" and "Supplication". The acclaimed,award-winning composer and cellist composed the two pieces with the artists Maria Franz (Heilung) and Lorenzo Esposito Fornasari in mind and their breathtaking voices are a key element on the respective releases. Franz taking the center stage on "Invocation" and Fornasari on "Supplication". Dare to take on Quail's wild, boundless soundscapes, enriched by two of the most powerful voices in contemporary music.
In her own words, Jo Quail shares the details behind the creation of both pieces:
"Music is an art without boundaries, to be interpreted in any way we wish, with freedom to assign individual meaning or association. That's what I term 'active listening' (or audience participation!) but for me personally Invocation and Supplication are two 'three-song cycles' that are perspectives of the same form. Individually Invocation and Supplication each describe three aspects of an archetype; both together they form an entire image. This image is, to me, earthy, primal and spiritual in the widest sense, are common themes I draw upon in all the music I write.
In late 2020 I began to write what became Invocation and Supplication. I'll never forget this period of time; I returned from touring in Australia in March 2020 to a state of lockdown, and the immediate months that followed were a kind of paralysis for me and many of us. In time I felt able to play my cellos again, and I began with very static technical exercises, nothing remotely creative.
As I uncovered a path I became gradually more free in my playing. I did not have a 'destination' in mind at this time – I was endlessly exploring; picking up, discarding, re-examining, repeating tiny phrases, mistakes, thoughts, musical ideas, all with no agenda, no map. With live concerts out of the question and indeed all future seemingly uncertain, once I felt able to write and play again I found there were no embargoes on my creativity. I'm usually a soloist, and with no touring or performance opportunities on the horizon I found myself writing instead with an almost feral freedom.
Invocation and Supplication were composed simultaneously, each somehow part of the other. I've known Maria Franz (Heilung) and Lef (Lorenzo Esposito Fornasari) for some years, and I'd often dreamed to create wild landscapes for both these artists, being continuously inspired by their individual breathtaking talents. As I began to write these works in earnest I heard only their voices.
I'm certain thatthe creative freedom I experienced in writing The Cartographer (completed in late 2019) continued to exert influence on me as I explored these fledgling ideas during that period. As the music took shape it became clear to me that Invocation warranted a larger orchestration than just cello, and I was honoured that friends wished to join me; I wrote a French Horn part that Julia MacDonell recorded so beautifully for me, Ben Ellis brought his monumental bass playing and creative improvisation skills to the table, Tom Atherton advised on instrument choices and then recorded my percussion parts with precision and great gusto, Steve Thompson, my teacher and guide on trombone in The Cartographer interpreted my bones parts with such creativity.
Crucially everyone was able to record at home with Maria generously recorded by Christopher Juul at Lava Studios – in one magical day Maria delivered stunning takes of all three tracks. I almost came unstuck with my choir, I heard a choir and did not want to compromise on this, but this was technically impossible at the time. However, the choir of Sing United, with my friend and colleague Mark Deeks (Ard) directing, came to my rescue! I felt sure I could create a choir from mobile phone recordings, and Sing United members wholly embraced this. They sent me syllables sung on specific notes, all recorded on mobiles and from these I made the choir of Invocation. Jake Harding added his majestic vocals to this (also recorded on phone!) and the form was defined.
As is appropriate for the counterpart to Invocation, Supplication is far more intimate in orchestration, with just my cellos, Lef's stunning baritone, and a fair bit of sound design – something I love to do, not often called for in my earlier albums. Lef was able to record in his own studio, and all my celli were recorded at home, in various rooms with alternative microphones to create the ensemble. In this song-cycle I wanted to explore the interweave of space and breadth and time, with slow cadences and minimal harmonic movement. Supplication incorporates some fragments Koen Kaptjn recorded on trombone for me – he uses many extended techniques in his improvisations and creates otherwordly sounds that helped me shape these three songs. It was a truly three dimensional process to compose and design these pieces, particularly the third movement Kyralaste which began as a free improvisation from Lef that I then cut up, arranged, and composed around.
Invocation and Supplication would not have come about with any other backdrop behind me; it needed all the peculiarity of those months, and all the support and enthusiasm of these great artists, to set these wheels in motion. Throughout this period of time a phrase accompanied me – 'In skeins of blood and breath and bone, desire weaves' – the cornerstone of Invocation and Supplication, and perhaps the starting point of what is to come."
Invocation – performers
Composer / Producer / Cellist – Jo Quail
Vocal – Maria Franz
French Horn – Julia MacDonell
Percussion – Tom Atherton
Bass – Ben Ellis
Trombone – Steve Thompson
Choir – The Choir of Sing United directed by Mark Deeks
Additional Vocal – Jake Harding
Mixed by Dax Liniere at Puzzle Factory studios
Mastered by Tim Johnson at Cinematic Mixing
Supplication – performers
Composer / Producer / Cellist – Jo Quail
Vocal – Lorenzo Esposito Fornasari
Trombone – Koen Kaptjn
Mixed and Mastered by Tim Johnson at Cinematic Mixing.