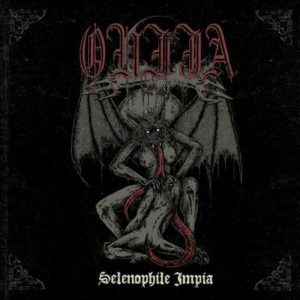 Label: Negra Nit
Date: May 28th, 2021
Here's yet another story about how this rotten day and age can have a terrible effect on one's memory. There's been a huge gap in this band's activity. Couple that with the closely related Spellcraft and their own inactivity and there's a big chance you might just forget about them completely.
Ouija and Spellcraft do not only share members (a lot of them actually), but also the genre in which they dwell. To a degree, at least. Furthermore, they've both been quite silent in the past seven or eight years. So, when you're being drowned in different information day after day, it is easy to miss Spellcraft's new EP that came out last year. Just like I did. Unfortunately, since I've been a fan of these Spaniards back when their presence was announced on a regular basis.
I'm to blame and nobody else, no doubt about that. I've fallen under the influence of hyper-productive world and that's a shame.
However, when I got a chance to check out what's new in Ouija camp, I've jumped at the opportunity. Even if I'm not as familiar with the background of this entity as much as I am with its twin.
Anyway, enough bitching.
Ouija comes back to us with a three track EP. As expected, and mentioned in the promo sheet, "the band sold its soul to black metal" and that's exactly where you might find them. Very much Scandinavia oriented sound dominates throughout these nineteen minutes. The Spaniards make their habitat on the borderline between the primordial Norwegian landscapes of ice and snow, and melodic Swedish darkness and evil.
So, what you might find on "Selenophile Impia" is a mix of early Satyricon or Mayhem with Dark Funeral and (again early) Dissection. With touches of that inimitable Marduk's brutal aggression.
Considering you should all be well aware of the sound I'm writing about, I see no need to further embellish the description. Still, I have the need to say that Ouija didn't make that big of an impression on me with this recording. Though it is clear that the material has been carefully prepared and misses any dull moments throughout, the fact is that it will hardly make a deeper impact on the listener.
"Selenophile Impia" is, without a shadow of a doubt, a decent black metal outing. Not at all submissive and without a weak moment. Even if two out of three tracks go above seven minutes in length, there's enough variation within to make them interesting. And it is all fine while the record is spinning. The trouble is that not much is left after it stops. Unfortunately, the record is easily forgettable, which is a big issue in the mentioned outside circumstances.
On the other hand, I know these guys have the skills to craft excellent records. They've proven it a number of times already. So, I will definitely try harder to keep my ears open for their future efforts.