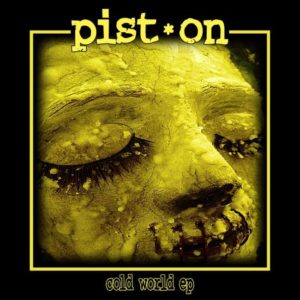 Label: Self released
Date: March 25th, 2022
Here's a band that reactivates with a three song EP, after a two decades long pause. At least that's what I read, because I've never heard of them before grabbing hold of this promo.
Alternative rock is what's announced in its header. That's cool with me, since I'm a fan of the genre anyway. But the trouble is that the genre itself is such a broad one and might take a whole lot under its wing in your local music store. The other issue is that it usually stands for the music pointed at a younger audience. And I'm not so young anymore. Nor is the band in question. Coupled with the fact that I've never heard of them before, made me worried. And for good reason.
I'll take a wild guess here. Pist.On were never in the big league. Though I see some big labels that stood behind them in the past, during the golden years of the genre. Bandwagon, anyone? An attempt by those bigshots to harvest as much cash as possible while it's still hot. Once again, I've never heard what they've done back in the day, so I will not judge their quality.
Then again, this is an independent release. And alternative rock is galaxies away from its heyday. The pieces started to come together once I've pushed play.
Three songs in a bit more than ten minutes and straight after the first spin my mind started to wander. I thought about those veterans football matches. You know, it's cool to see the retired stars on the pitch once again. There's some glitz and glamour to it. They still have some fine dribbles in their legs. But they're still past their prime. Their bellies are showing, they are moving a bit sluggish and the quality of football is nowhere to be found.
Oh, and pardon my European heritage, these New Yorkers would call the sport soccer. Sorry that the Jets or Giants didn't make it to the Superbowl this year.
I've also been thinking of that TV show "According to Jim", where Jim Belushi has that garage blues band with a bunch of his middle-aged friends. Somehow it fits to what Pist.On prepared for us on "Cold World".
The EP shows a band that still has the will and desire to practice music, but is past its prime and incapable of breaking some barriers.
"Cold World" does go along the alternative rock / metal lines. It is influenced by North American scene from the turn of the century. It reminded me of bands such as Bush, Creed, Godsmack, Puddle Of Mudd, Nickelback, Foo Fighters… A bit unorthodox, but it also reminded me of the latest Mötley Crüe record, and not just because the vocal tone of Mr. Henry Font (when he's not in that whispering mood) is similar to Vince Neil.
However, this EP lacks a "hit song" all of the above had. A catchy idea, a hook if you will, something that would take them above. Back in their day, it would perhaps grant them a daytime slot at Ozzfest, but that's about it. There's a melancholy about the release that was so desired in the genre. But there's just the melancholy. I cannot, for the life of me, find a spot of light in the "Cold World". A surge of adrenaline is nowhere to be found. It's missing the rebellious energy, a certain defiance within. There's a hint of it in the title track, but it soon fades away and in the same song.
Basically, it's the age thing. Both with the band and the audience. I haven't been a teenager for a long while now, so I cannot judge what would fit the youngsters of today, but I highly doubt they will find what they need in a bunch of aging rockers. Maybe on some of the early Pist.On recordings, but not on "Cold World". It's just not good enough. On the other hand, their contemporaries need much more depth than "I'm so sad your life is broken; I'm so sad you can't stop smoking". I simply cannot think of an audience that would desire a release like this one. Unfortunate.