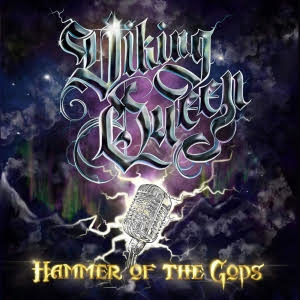 Label: Dr Johns Surgery Records
Date: October 15th, 2020
Whenever and wherever I see kings and queens, dragons and wizards, hammers and swords in the band's name, album or song title you know it is for me. In my micro universe it promises a lot.
From the land of ice and snow, land of black metal, can you believe there is a band that plays anything calmer than Gorgoroth, Emperor, Einherjer, Myrkskog or Dimmu Borgir (do not count Leaves' Eyes or Sirenia)?
I have found a little information about our band Viking Queen. Since they were formed four years ago it is quite enough. 
Since I expected that this might be a female band considering the band's name, those guys in line up confused me a bit. They have only two queens. The mastermind of the band is former Rogue Male drummer, Geir Mirnada. The rest of the band is: guitarists Lasse Bjerkan and Robban, bassist TJ, lead singer Marthe Elisabeth and back vocalist Tone Elisabeth Johansen. Promo material says we are dealing with classic rock'n'roller band. In my head, again, it is an alarm. Boring!  Looking at song titles, I am wondering how can this be rock'n'roll: "Hammer of the Gods",  "Empire of Death", "Knives Through My Heart", "Blood of the Viking", "Trail of a Viking", "Swords and Dragonheads", "Warriors Last Stand"…
After the first listening I can say this is far from rock, thanks to Odin! Mostly songs are leaned on good old Ronnie James Dio sound mixed with early KISS. Drum it seems plays the main role here, guitar solos stand out while Marthe Elisabeth is killing with her vocal interpretation. With an addition of Tones Elisabeth Johansen this is the winning combination.
"Hammer of the Gods" thunderously opens the album with powerful drumming and that voice… Again, Dio would be proud!
Although powerful performance, Marthe Elisabeth does not turn the back to ballads. "Knives through My Heart" is, I would say, a revenge ballad judged by the lyrics. You have a girl sitting alone and thinking what went wrong, she cries, her broken heart bleeds, "but someday you're gonna get pay for all the things you've done to me"… I would lie if I would tell that this song does not go in the range of best Doro ballads. 
"Blood of the Viking" opening riff is kind of Bonfire school. And I am not mentioning all those bands and comparing Viking Queen's music and style to anyone to minimize their quality. The only reason I am doing this is because I want to get closer their music to any reader and  potential listener of this album in which direction their music goes and who might be in the circle of future fans. 
Overall, "Hammer of the Gods" is a mid tempo album. While one song accelerates, the next gives an impression that reduces speed and energy and so on… The band has found the perfect measure to suit these cold days. They are going nowhere fast. 
Norway is a synonym for black metal, but Viking Queen is a proof that every rule has an exception: coldness can produce warm notes despite very cold associate song titles.
Personal favorite: "Hammer of the Gods"
See the thunder storm is rising, and the clouds are getting closer,
You can feel it, you can hear it…
and "Warriors Last Stand":
A warrior last stand, dying by his hand,
A warrior last stand, fighting till the end…